Welcome to the latest newsletter from South Copeland GDF Community Partnership, in an issue which marks almost two years since we formed.
The Partnership's role includes ensuring people in the Search Area have all the information they need when considering the possibility of hosting a Geological Disposal Facility (GDF), and now that the Community Partnership is fully established, we've started to increase engagement with our local community.,
At our recent Community Forum, detailed on pages 3-4, members of the public joined us to share their thoughts and concerns on GDF, and it was heartening to see the level of participation and respect shown between participants as they took part in the conversation. Whether you are in favour of a GDF, against it, undecided or require more information – we're keen to hear all views and are here to help.
In this issue, you'll also find the latest community survey results, how the developer Nuclear Waste Services (NWS) will identify a suitable site for a GDF through its six 'siting factors', information on the aerial surveys taking place across our region this autumn/ winter, and an international focus on the Cigéo project (the GDF in France).
Finally, £1million of Community Investment Funding (CIF) was awarded in our first year, and as this newsletter went to print we were approaching the £1million mark for the second year. I'm hopeful that this will have been reached by the time this newsletter gets to you.
We've supported a wide variety of projects across this area, many of which would not have come to fruition without it, so it's good to see the positive impact this funding is having. It's the benefit of being a part of the siting process, so we should make the most of it. Take a look at our website for further details about CIF and how you can put in an application.
We hope you find this issue informative, and we send you our very best wishes for the festive season and 2024.
Ged McGrath,
Chair, South Copeland GDF Community Partnership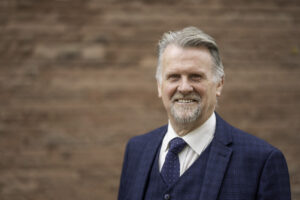 Download newsletter below