Welcome to the first newsletter from the South Copeland GDF Community Partnership. In this edition we'll provide details of our first GDF drop-in events which take place in June.
We also have all the information you'll need about the £1million Community Investment Funding – which has just awarded its first grant to a local project – as well as the Marine Geophysical Survey taking place along our coastline this summer.
This GDF Community Partnership was formed in December 2021 and follows on from the Copeland Working Group to take forward discussions around geological disposal in more detail.
I was appointed as Chair in March 2022 and I'll continue to support the establishment of the Community Partnership and take forward the conversation with the community.
It is crucially important that residents in the Search Area – the electoral wards of Millom and Black Combe & Scafell – understand that they make the decision as to whether or not they want a Geological Disposal Facility (GDF), and the Community Partnership's role is to ensure that the community has all of the relevant information that they need about the process.
A GDF is an underground facility designed to safely and securely dispose of higher activity radioactive waste. The Community Partnership's initial members are listed in this newsletter. This membership is set to grow as more members are identified, reflective of the community within the Search Area.
Our first community engagement events in South Copeland start in June, which will offer insight, answer your questions and open up discussions about what a GDF Community Partnership means – please read on for details.
I am delighted to announce the first grant awarded from the Community Investment Funding in this newsletter. The annual £1m Community Investment Funding allows South Copeland to benefit as it participates in this early stage of the siting process.
This newsletter will also look at where Geological Disposal has been implemented internationally and where else within the UK is being considered.
I hope that you find this issue informative, and to see you at the upcoming community events.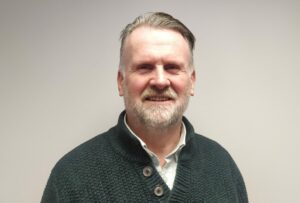 Ged McGrath
Chair, South Copeland GDF Community Partnership
Download newsletter below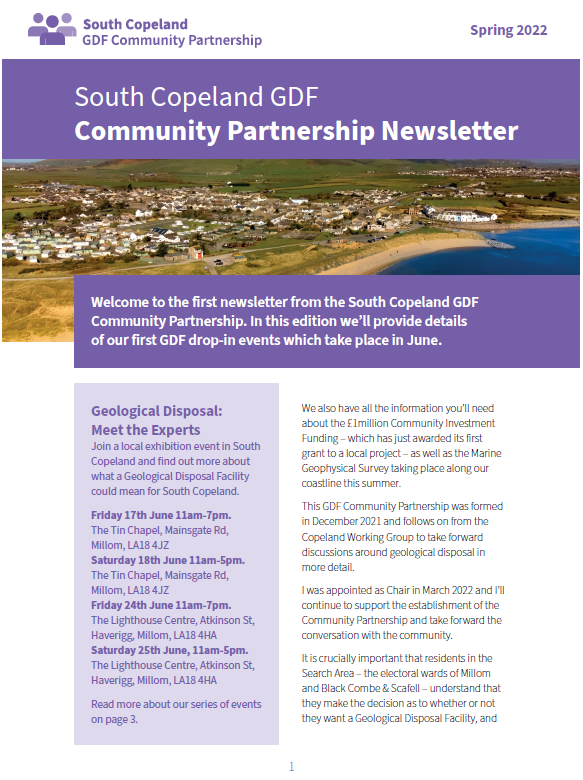 Contact Us
We want to hear your views and help you find all the information you need, so please contact us with any comments or questions:
Email:gdfinfo-southcopeland@nda.gov.uk
Call: 0300 369 0000
For hearing and speech impaired customers please call via Relay UK on 18001 (all calls are charged at local rate)
Write to us: South Copeland GDF Community Partnership, GDF Enquiries, PO Box 734, Swansea, SA1 9RP