A series of events are set to take place in South Copeland to continue the conversation about what a Geological Disposal Facility (GDF) could mean in the local area.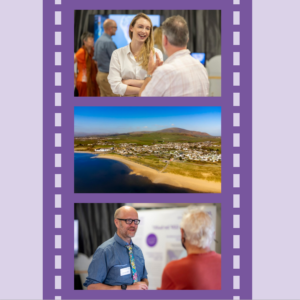 The Film Talks: Exploring GDF events on 24 and 25 November are an opportunity to hear different perspectives on what geological disposal could mean for South Copeland and ask your questions.
There'll be short films, as well as talks and Q&As with the GDF developer Nuclear Waste Services' (NWS) geologists, engineers and scientists, members of the Community Partnership, academics, the Environment Agency, the Office for Nuclear Regulation (ONR) and the Committee on Radioactive Waste Management (CoRWM).
The events will take place:
Friday, 24 November 2023, 5-8pm, The Beggar's Theatre, 1-2 Market Square, Millom LA18 4HZ
Saturday, 25 November 2023, 2-5pm, Drigg Village Hall, Drigg, Holmrook CA19 1XF
The films and Q&A will start from 6pm on Friday 24 November and 3pm on Saturday 25 November with an hour before for refreshments and discussion.
Chair of the South Copeland GDF Community Partnership, Ged McGrath, said: "These events are an opportunity to join the GDF conversation through film, understand more, ask your questions, and hear different perspectives on geological disposal.
"Members of the Community Partnership, myself included, are looking forward to viewing the films, learning from the different experts in the room, and raising our questions, thoughts and concerns.
"Do come along – we want to hear from you, we value your opinions and take them all on board as we go through this process."
A GDF is an underground facility designed to safely and securely dispose of higher activity radioactive waste.
A GDF requires both a suitable site and a willing community. It would also require consent from regulators including the Office for Nuclear Regulation and the Environment Agency. If a suitable site is found in South Copeland – a process which could take 10-15 years – a Test of Public Support would give people in the potential host community a direct say over whether the project goes ahead.
Deep geology beyond the coast is currently being considered for siting the underground elements of a GDF. This means a surface facility on, or near, the coast would provide access to a disposal area deep in rock beyond the coast.
South Copeland is one of three Search Areas currently taking part in the siting process for a GDF. Mid Copeland in Cumbria and Theddlethorpe in Lincolnshire are the others.