Hello and welcome to the South Copeland GDF Community Partnership newsletter.
In December 2021 a Community Partnership was formed in South Copeland to look at what impact a Geological Disposal Facility (GDF) – an underground facility designed to safely and securely dispose of higher activity radioactive waste – could have on this area, and continue discussions with the local community.
The South Copeland GDF Community Partnership, which was established in accordance with UK Government policy, has now been in place for a year and is committed to having a discussion with the Search Area electoral wards of Millom and Black Combe & Scafell.
Our group of community members is neither in favour nor against a Geological Disposal Facility being built in South Copeland; the Partnership is in place to ensure a fair process, the voices of local people are heard and that all relevant information is provided so that the community can make an informed decision.
We are currently recruiting new members so that the Partnership is reflective of our community and if you are interested I would encourage you to find out more and apply.
No decisions have been made about where a GDF could be sited as this requires both a suitable site and willing community. Three other areas in England are participating in the process, including Mid Copeland and Allerdale in Cumbria and Theddlethorpe in Lincolnshire. If a suitable site is found in South Copeland – a decision which could take 10-15 years – a Test of Public Support would give the community a direct say over whether or not the project goes ahead.
This Community Partnership is a starting point to consider the possibilities in more detail, ask questions and raise concern with the GDF developer, who we will hold to account. We need to be open to both the benefits and impacts of a GDF and this needs exploration with independent help as more details become clear over time.
The formation of the Community Partnership allows access to £1million of Community Investment Funding (CIF) per year for community groups and projects in the Search Area. This funding is provided to South Copeland just for taking part in the siting process on what is a long journey to a final decision – there is no commitment on anyone's part in the community to site a GDF here. Please read on to page 10 to find out more about CIF.
We are only just beginning to engage with you on what is a long-term programme, and our goal is to ensure you are well informed and can feedback. That is why in July this year we spoke to a sample of residents to gain an initial baseline measure of awareness, understanding and support for a Geological Disposal Facility (GDF) across the Search Area. We also asked what information you would like to receive and how you would like to receive it, so that we know how to communicate and engage with you as we go forward.
This newsletter will look at the results of this recent baseline resident research, what it means for our community, and start to answer some of the main questions and concerns that you have. We hope that you find this interesting, and I look forward to hearing from you as we continue to engage locally.
To keep up to date with the latest news from the South Copeland GDF Community Partnership, you can follow us on social media – we have Facebook, Linkedin and Twitter accounts: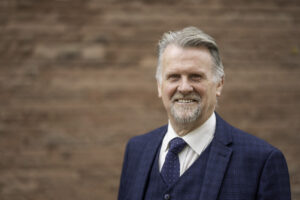 Ged McGrath
Chair, South Copeland GDF Community Partnership
Download newsletter below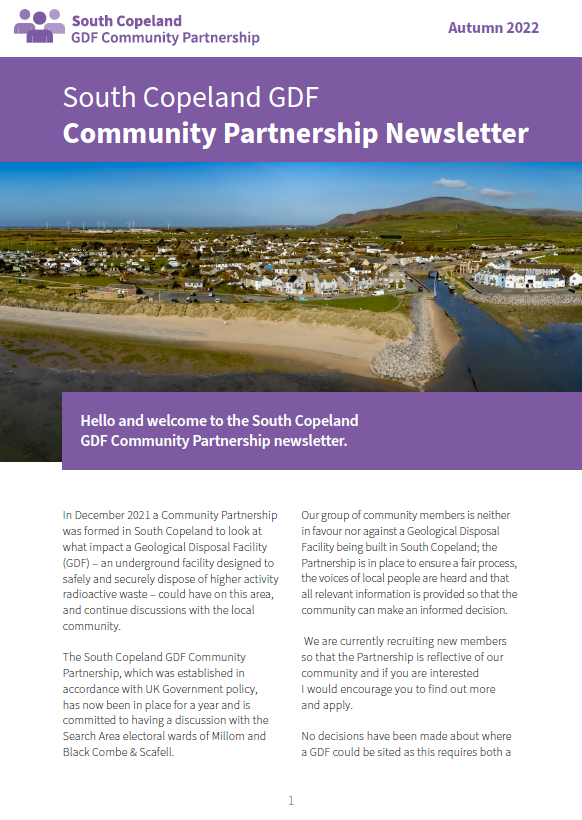 Contact Us
We want to hear your views and help you find all the information you need, so please contact us with any comments or questions:
Email:gdfinfo-southcopeland@nda.gov.uk
Call: 0300 369 0000
For hearing and speech impaired customers please call via Relay UK on 18001 (all calls are charged at local rate)
Write to us: South Copeland GDF Community Partnership, GDF Enquiries, PO Box 734, Swansea, SA1 9RP