Welcome to the first newsletter from the South Copeland GDF Community Partnership. In this edition we'll provide details of our first GDF drop-in events which take place in June.
We also have all the information you'll need about the £1million Community Investment Funding – which has just awarded its first grant to a local project – as well as the Marine Geophysical Survey taking place along our coastline this summer.
This GDF Community Partnership was formed in December 2021 and follows on from the Copeland Working Group to take forward discussions around geological disposal in more detail.
I was appointed as Chair in March 2022 and I'll continue to support the establishment of the Community Partnership and take forward the conversation with the community.
It is crucially important that residents in the Search Area – the electoral wards of Millom and Black Combe & Scafell – understand that they make the decision as to whether or not they want a Geological Disposal Facility (GDF), and the Community Partnership's role is to ensure that the community has all of the relevant information that they need about the process.
A GDF is an underground facility designed to safely and securely dispose of higher activity radioactive waste. The Community Partnership's initial members are listed in this newsletter. This membership is set to grow as more members are identified, reflective of the community within the Search Area.
Our first community engagement events in South Copeland start in June, which will offer insight, answer your questions and open up discussions about what a GDF Community Partnership means – please read on for details.
I am delighted to announce the first grant awarded from the Community Investment Funding in this newsletter. The annual £1m Community Investment Funding allows South Copeland to benefit as it participates in this early stage of the siting process.
This newsletter will also look at where Geological Disposal has been implemented internationally and where else within the UK is being considered.
I hope that you find this issue informative, and to see you at the upcoming community events.
Who is part of the South Copeland GDF Community Partnership?
A Community Partnership must have at least one relevant principal local authority (such as a district or county council) alongside the GDF developer and members of the community. The aim is for the membership to be reflective of the local community in the Search Area.
The initial South Copeland Community Partnership comprises:
Ged McGrath – Chair
Copeland Borough Council – Represented by David Moore and non-voting members Doug Wilson, Felicity Wilson and Lawrence Date.
Cumbria Association of Local Councils – Represented by David Savage, deputy Dave Faulkner
Millom Town Council – Represented by Dave Billing, deputy Denise Burness
Millom Without Parish Council – Represented by Carl Carrington, deputy Ian Lockwood
Nuclear Waste Services – Represented by Kelly Anderson
Whicham Parish Council – Represented by Maggie Cumming, deputy Lesley Cooper
Meet the experts: GDF events to be held in South Copeland
A series of exhibition events are set to help people to ask questions and find out more about what a Geological Disposal Facility (GDF) is and what it could mean for the South Copeland Area.
The events are being held by South Copeland GDF Community Partnership in June in the Search Area – which includes the electoral wards of Millom and Black Combe & Scafell.
The Partnership's Community Engagement Team will be hosting events in Millom and Haverigg.
Community Engagement Manager, Kelly Anderson, said: "We are here to help people understand Geological Disposal and the siting process and we're encouraging everyone to come along and have a chat with us, ask us questions, raise any concerns, and talk about the opportunities this process offers.
"Our Engagement Team will be joined by different experts in their field to discuss the subjects which matter most to people in more detail. I look forward to meeting with people in the local community and listening to their views."
Exhibition events will take place:
Friday 17th June, 11am-7pm.
The Tin Chapel, Mainsgate Rd, Millom, LA18 4JZ
Saturday 18th June, 11am-5pm.
The Tin Chapel, Mainsgate Rd, Millom, LA18 4JZ
Friday 24th June, 11am-7pm.
The Lighthouse Centre, Atkinson St, Haverigg, Millom, LA18 4HA
Saturday 25th June, 11am-5pm.
The Lighthouse Centre, Atkinson St, Haverigg, Millom, LA18 4HA
First project in South Copeland receives grant funding from GDF programme
A community project in South Copeland has been awarded grant funding as the area takes part in discussions about whether it could be the right place to host a Geological Disposal Facility (GDF). This is the first funding to be allocated from the Community Investment Fund in this Search Area.
Formation of the South Copeland GDF Community Partnership has given access to £1million Community Investment Funding per year from the GDF programme as conversations continue around the opportunity to host a facility locally.
Funding is available to support projects that provide economic development opportunities, enhance the natural and built environment, or improve community wellbeing.
The project to benefit from this first round of funding was Millom Cricket Club, receiving £31,236 to make improvements to the clubhouse and facilities.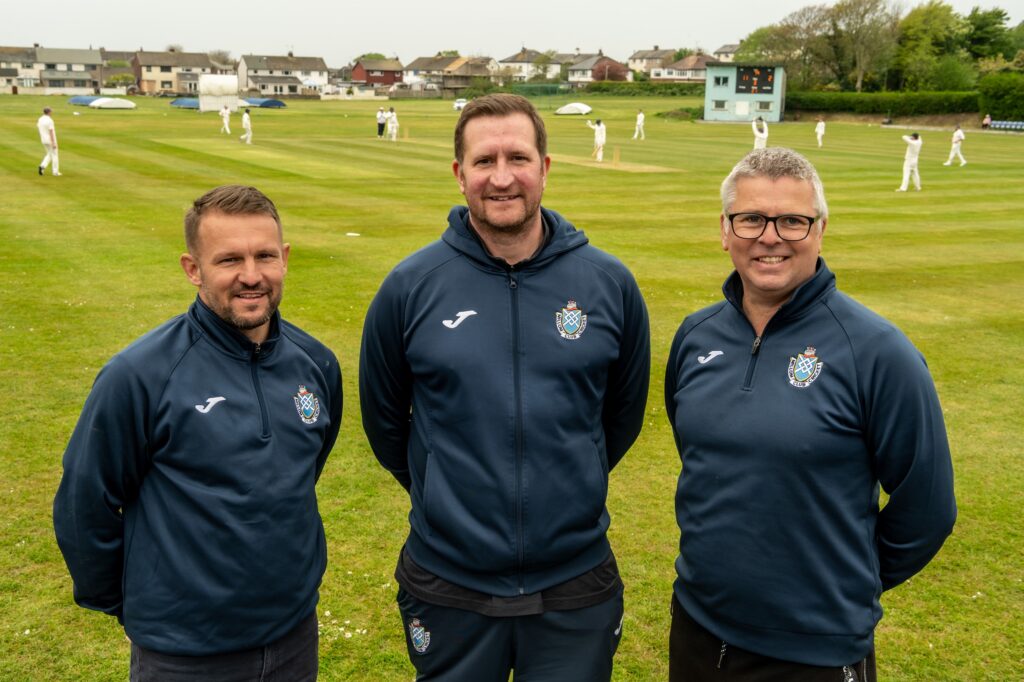 Millom Cricket Club are intending to make improvements to the clubhouse and facilities to ensure that the club can provide a safe and friendly environment for all to enjoy well into the future. The funding will allow the replacement of the clubhouse roof, development of a seating and picnic area, and supply equipment such as site screens and pitch covers.
Martin Burn, Millom Cricket Club, said: "This funding is fantastic news for Millom Cricket Club as it will allow us to carry out vital roof repairs to our clubhouse and is also enabling us to improve our facilities and grounds, ensuring that cricket and other community events can continue to be held and enjoyed in a safe and welcoming environment for many years to come."
Ged McGrath, Chair of South Copeland GDF Community Partnership, said: "I am delighted that the Community Partnership is now able to begin awarding grant funding to local projects. This will help to make a positive difference to our community while it takes part in the GDF process. The applications that we are receiving are varied and if successful will be of great benefit to the South Copeland area. I encourage other community groups, organisations and businesses to find out more and apply."
For details about Community Investment Funding and how to apply, visit the website or for help and support email: communityinvestment-southcopeland@nda.gov.uk.
What is happening internationally?
Scientists and governments around the world recognise that geological disposal is the best option for managing longer-lived, more hazardous radioactive waste. This follows many decades of science, technology and engineering research.
International laws state that radioactive waste must be disposed of in the country in which it is generated, except in specifically defined circumstances. The GDF team works closely with overseas radioactive waste management organisations and community representatives. We exchange knowledge, experience and understanding in a range of disciplines including technical, geological, social, engagement and communications.
Among the countries with the most advanced geological disposal projects today are Finland, Sweden and France. Finland started constructing a GDF for spent nuclear fuel, called 'Onkalo', five years ago in granite rock. Disposal is expected to begin later this decade.
In Sweden, a site at Forsmark has been identified following strong GDF support by two communities, Osthammar and Oskarshamm, following a process based on community consent. The Swedish waste management organisation SKB submitted its construction application in 2011 and has engaged with regulators.
As the Swedish Government gave its approval to GDF earlier in the year, construction of the disposal facility for spent fuel could begin in the early 2020s, and take about 10 years to complete. A repository for short-lived intermediate level waste was built 50 metres under the Baltic seabed in the 1980s also at the Forsmark site.
France has also identified a suitable site. Its waste management organisation, ANDRA, is preparing to submit applications for the Cigeo industrial geological disposal facility, located in the east of the country.
Meanwhile, programmes are under way elsewhere in the world. For example, Canada, Japan and Switzerland are engaged in a site selection process. In Canada, more than 20 communities initially registered interest in hosting a GDF, and preparations are now being made for borehole investigations at two sites.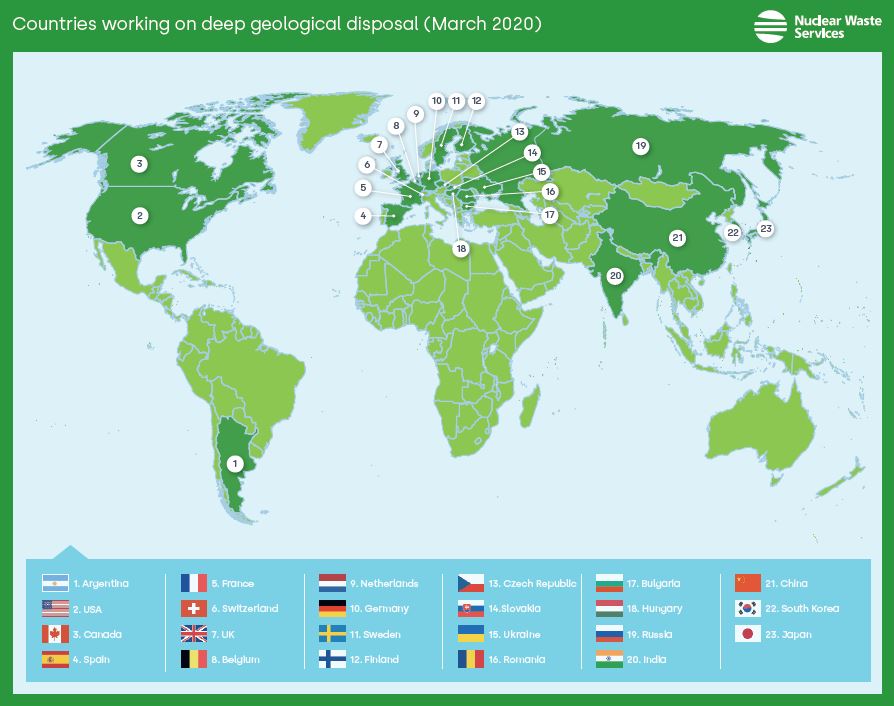 The national picture: Where else is being considered?
Across the UK, conversations are progressing, with additional communities expected to join the siting process. Theddlethorpe in Lincolnshire has started conversations in the community and formed a Working Group. Mid-Copeland, Allerdale and our community in South Copeland have all progressed to form a Community Partnership and are considering whether a GDF would be right for our areas.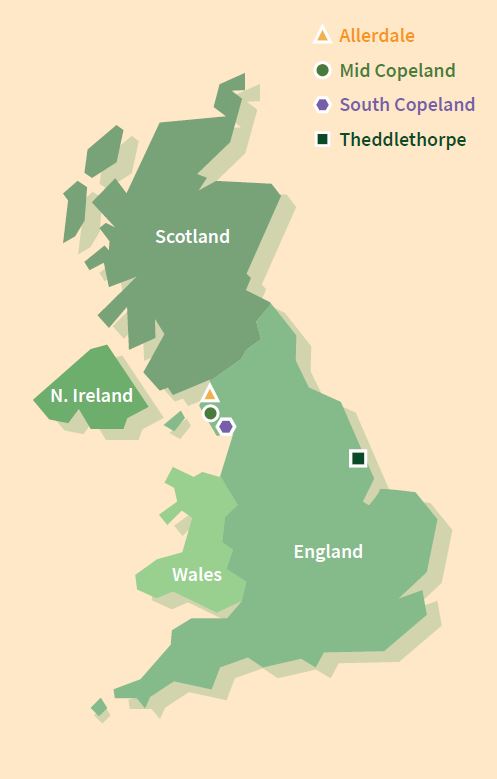 What is different with the process this time?
A more flexible approach – The previous process was rigidly staged and required local authorities to make decisions at predetermined points before further work could be carried out to answer community questions. These were often seen as big commitments in practice, even if they were not intended to be and were interpreted as decisions about hosting a GDF, instead of decisions about simply moving to the next stage of the siting process. The current process is clear that participation in GDF siting discussions is in no way an indication of being willing to host a GDF.
More information to help start and guide discussions – Much more information about geology is available from the outset. Geology was a key topic raised in the previous process and a national geological screening exercise was conducted before opening discussions this time. Information on the National Geological Screening is available at: https://www.gov.uk/guidance/about-national-geological-screening-ngs
Early investment – Early investment funding of £1million annually is available for local initiatives, recognising that jobs and other major investments will only materialise later.
Anyone can contact us – It is now possible for anyone to contact use to find out more about the process for identifying and selecting a site for a Geological Disposal Facility. This allows more people to find out about the programme for themselves and start a local discussion without any commitments being required.
Right of withdrawal – The process now gives the final decision to the community, through a 'Test of Public Support'. Principal Local Authorities can still withdraw communities at any time prior to a Test of Public Support but a final decision to support a GDF can only be taken by the community in the immediate vicinity of the proposed facility and its associated infrastructure.
Mechanisms for stronger engagement/partnership – The new process allows the community to directly engage with the developer and have their questions answered, as well as develop a community vision for the long-term.
Marine Geophysical Surveys – interview with the Project Manager
A GDF has to be built deep underground, in solid rock. The rock, along with engineered barriers, play an important part in keeping people and the environment safe while the waste naturally becomes less radioactive. A Search Area in South Copeland has been identified which will now be investigated by the developer as part of the Community Partnership.
The Copeland GDF Working Group recommended that the investigation initially focuses on the deep geology within the inshore area up to 22km beyond the coast. Surveys are due to take place off the coast of Mid and South Copeland for around three – four weeks this summer to deepen understanding about the nature of the deep rocks beyond the coast. This is part of the work required within the siting process for the underground elements of a Geological Disposal Facility.
We asked Chris Eldred, Senior Project Manager in the GDF Programme, some questions about the surveys.
What are marine geophysical surveys?
Marine geophysical surveys use sound energy to map geological structures under the seabed. Surveys use techniques that are routine in the oil & gas and offshore wind industries. These techniques are similar to the ultrasound imaging that's widely used in medicine.
Marine geophysical surveys involve creating a sound from a source (commonly using high pressure air) below the water surface, which is towed behind a vessel. The echoes that reflect back from the different layers deep underground are collected using receivers (hydrophones) that are trailed behind the boat as streamers (see images of Shearwater Bly below, the vessel that will be used for Copeland surveys, plus an indicative image of streamers being towed).
Surveys can generate two dimensional and three dimensional images of the deep geology, either below the land or below the seabed, providing information about the thickness, layering, and depths of the different rock types in particular geographical areas.
Why are you doing these surveys?
The Copeland GDF Working Group recommended that the investigation initially focuses on the deep geology within the inshore area up to 22km beyond the coast. We, as the GDF developer need to understand the underground geology so that we can start to consider if this area could make a suitable site for a GDF.
This includes identifying suitable underground layers of rock in which to build a GDF and determining how far underground they are. This data will give the geologists, scientists and engineers some of the tools they need to begin designing and planning future work. The information we obtain will help to better understand whether a location could host a GDF, which will in turn help discussions with communities in the Search Area.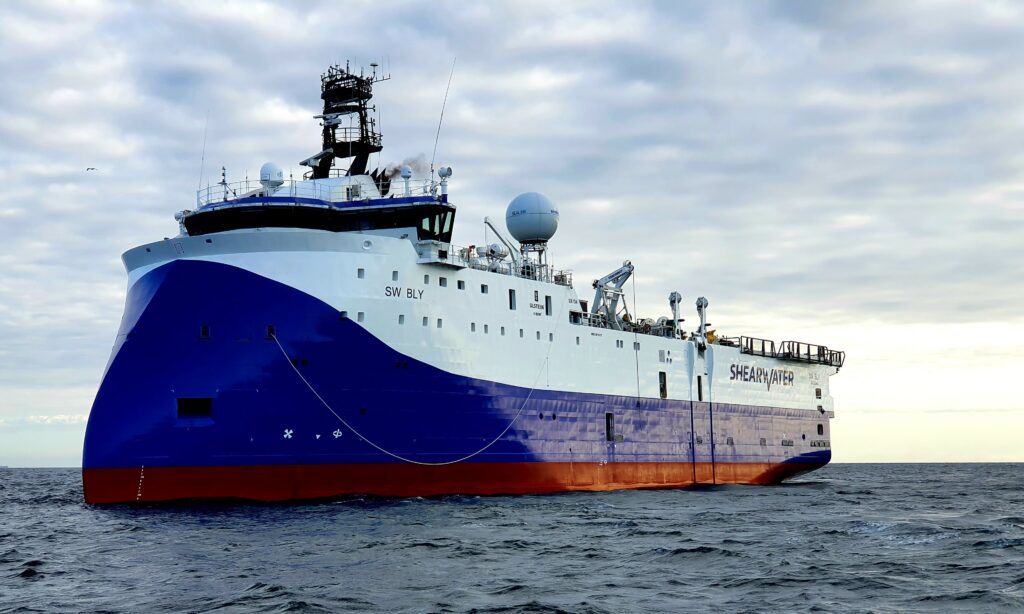 How long will they last?
These surveys will take around 3-4 weeks as part of a continuous 24 hour operation taking place 5-20kms off the coast.
What will members of the public onshore be able to see and hear whilst the surveys are taking place?
The vessel will be at least 5km offshore so it is very unlikely you will see or hear the vessel from the shore except for a row of lights at night on the horizon.
Will there be any preparatory work required beforehand which members of the public may see from shore or at sea?
In May 2022, there will be one preparatory operation using small vessels: a scout vessel, whose role it is to identify any equipment, such as lobster pots and vessel owners in the survey area.
Can members of the public still use the beaches during this time?
These surveys will not affect normal use of beaches or the ability of the public to swim in the sea and other recreational purposes.
Will the surveys affect other users of the sea?
Other sea users such as diving operations or leisure activities at sea will be notified about the surveys well in advance as the area of the survey will be off limits during the survey period for safety reasons.
Commercial fishing operators will be notified of the survey duration, dates and areas of operation which will enable them to manage their own activities accordingly and continue to supply the onshore markets.
The GDF Programme is developing a marine cooperation scheme for businesses whose commercial activities may be affected by these surveys using methodology developed by the off-shore wind industry and also used by other developers. It will look familiar to fishers and other marine users.
Will you use local harbours during the survey period?
The main survey vessel will commence its journey from Liverpool and return there. It will not use a local harbour during the survey period as it will be at sea for the whole survey period.
The guard and scout vessels will leave from Fleetwood in Lancashire and return there. A support contractor will be based out of Whitehaven harbour during the survey period to support safe and secure operations.
A support contractor will be based out of Whitehaven harbour during the survey period to support safe and secure operations.
Who regulates and monitors the surveys?
Activities in English coastal waters are regulated by the Marine Management Organisation (MMO) which is responsible for granting marine licences and preparing marine plans. Other regulators include Natural England (the Statutory Nature Conservation Body for inshore waters) who provide environmental advice to the MMO on licence applications and exemptions.
The GDF Programme has engaged with both regulators on our proposals and associated environmental assessments.
How will you protect sea life when carrying out these surveys?
To protect the marine environment and to fulfil its responsibilities, the GDF Programme has undertaken marine environmental assessments to identify any ecological impacts associated with surveys and to support requirements set out in legislation and regulations. We will follow relevant guidance set out by the Joint Nature Conservation Committee (JNCC) on reducing and avoiding impacts from surveys, and by using appropriate measures such as Marine Mammal Observers to ensure the survey doesn't start when marine mammals are in close proximity to the survey vessel.
How will you avoid polluting the sea?
Shearwater, the owner of the survey vessel will apply good industry practice and requirements and as part of this they will also not discharge any wastes during the operation.
Shearwater will aim to remove old lost fishing gear and debris from the sea during operations, if it has the potential to get caught in the survey equipment. This will help "clean up" waste, such as plastics, from our coastal waters and protect marine wildlife.
Does the survey disturb or interfere with fishing and deplete fish stocks?
Environmental assessments have been undertaken, discussed with regulators, and show that there will be no significant impacts on ecology including on fish spawning and nursery grounds.
The GDF Programme is also undertaking extensive engagement with national and local fishing organisations. This includes organisations such as the National Federation of Fishing Organisations and local fishing cooperatives and organisations, who fish in the survey area.
What happens after the surveys are completed?
Following the surveys there will be an extended period of analysis of the data – around nine months duration. The main survey vessel and equipment and any related support vessels will leave the area and return to their respective ports in other locations.
In accordance with Joint Nature Conservation Committee (JNCC) guidance, the GDF Programme will submit details of the survey into the UK's Marine Noise Registry and will also submit reports to the JNCC on all sightings of whales and dolphins which forms part of the UK Marine Strategy.
The main survey vessel and equipment and any related support vessels will leave the area and return to their respective ports in other locations
What will it tell us and where will information be available?
The surveys will provide information about the deep geology of the survey area and help inform understanding about suitability for a GDF.
The findings will be published and publicly available on NWS' website as well as through the Community Partnership websites.
If the geology is right does this mean a GDF would go ahead here?
No. The siting process for a GDF is based on finding a 'willing community' and a suitable site. If a suitable site is found in Copeland – a decision which could take 10 -15 years – a Test of Public Support to give people a direct say would be held with those living in the electoral wards affected. If a community indicates it is willing through this test then the final decision on which site to develop will rest with the Secretary of State in accordance with the UK Government's Implementing Geological Disposal- Working with Communities policy.
Are you doing similar surveys in other areas?
Yes, surveys are expected to be carried out in other communities following Community Partnership formation and in discussion with them. Environmental assessments will be undertaken and the necessary permissions obtained for each survey.
If you have any questions or concerns about these surveys please contact the GDF Programme: gdfenquiries@nda.gov.uk.
Contact us – the South Copeland GDF Community Partnership wants to hear from you!
Do you have a question? Would you like talk to our community engagement team? Would you like further information? Are you interested in applying for Community Investment Funding?
Whatever your need please Contact Us here. Alternatively, please see our contact details below:
Email us: gdfinfo-southcopeland@nda.gov.uk
Community Investment Funding email: communityinvestment-southcopeland@nda.gov.uk
Telephone: 0300 369 0000
Write to us: South Copeland GDF Community Partnership, GDF Enquiries, PO Box 734, Swansea, SA1 9RP
Follow us on social media:
Twitter @CopelandS_CP
LinkedIn South Copeland GDF Community Partnership
Facebook SouthCopelandGDFCommunityPartnership
To see minutes of South Copeland GDF Community Partnership meetings see here.